The Golf GTi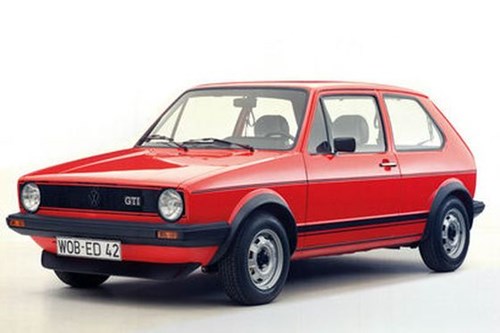 Introduced in 1976 to the World Market, the Golf GTi was first introduced in 1975 at the Frankfurt Motor Show. Volkswagen took an ordinary day-to-day car and equipped it with a massive performance package, making it not only Practical but also Sporty.  It was one of the first small hatches to incorporate fuel injection. Listed by "Sports Car International" as the World's 3rd Best Car back in 2004 the MK1 golf is now becoming extremely popular, and not mention extremely hard to find, within the VAG (Volkswagen And Audi) crowds.
The Golf GTi is powered by a 1.6 Litre (1588cc for those who wish to be specific), 4 Cylinder, fuel injected engine, which managed to produce a healthy 110 BHP (a very respectable sum for a car in those days), with a 140 Nm (103 lbs-ft) of Torque at 5,000 RPM. The car weighs just under at tonne at 810kg, the light weight of the vehicle meant that it was able to accelerate from 0-60 in 9 Seconds.
Many companies followed suit after the release of the Golf GTi, as it seemed extremely popular even as the years advanced and VW brought out more updated models, the Golf GTi was still a huge success in the market and it still is. In regards to the original Golf GTi, they are now extremely sought after, and it is hard to find a model that has not been modified or left standard.
Tags:
classic
,
classic car
,
Classic Insurance
,
Golf
,
GTI