Silverstone Celebrates a Legend – José Froilan Gonzáles
Last weekend, sad news surrounding the death of legendary Argentine racing driver José Froilan Gonzáles circulated amongst the motorsport industry. At the age of 90, José, nicknamed 'the Pampas Bull,' will be forever linked with Silverstone as both his Grand Prix wins took place here with the first win taking historical significance being Ferrari's first –ever victory in the FIA Formula One World Championship.
Honouring the milestone achievement made by Gonzáles, the two races organised by the Historic Grand Prix Cars Association specifically for F1 cars from that era will be named the Froilan Gonzáles Trophy for HGPCA Pre '61 Grand Prix Cars.
He will always remain a giant figure in motor sport history and Silverstone Classics have commented saying that is an 'honour' to celebrate his life at the track this summer. With great privilege the races will take place during the Silverstone Classic between the 26th and 28th of July.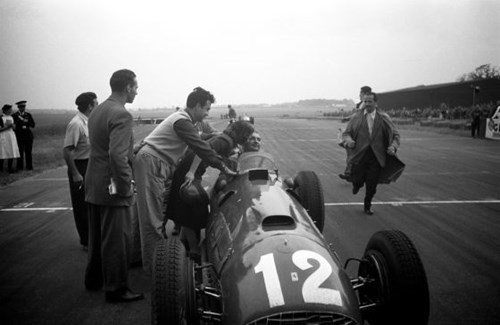 Firmly established as the world's biggest classic motor racing festival, Silverstone Classic will display more than 1000 of the finest and most authentic competition cars that powered through the iconic racing era starting from the fifties.
Like so many of the drivers in his era, Gonzáles also competed in sportscars winning the Le Mans 24 Hours for Ferrari in 1954. And notably at the age of 74, Gonzáles returned in 1997 to take part in a dramatic Ferrari demonstration. Here he drove a 1952 Ferrari 375 Indianapolis alongside Phil Hill, John Surtees and Jody Scheckter in three of the Scuderia's more modern F1 machines.  Adding to this two year's later, he also took part in BRM's 50th anniversary celebrations at Silverstone.
Next month will see 24 races take place during the Silverstone Classic celebrations covering a full spectrum of motor racing.
Tags: ferrari, Ferrari 375 Indianapolis, FIA Formula One World Championship, Froilan Gonzáles Trophy, Grand Prix Cars, Historic Grand Prix Cars Association, Jody Scheckter, John Surtees, José Froilan Gonzáles, Phil Hill, Silverstone, Silverstone Classics