Baron's Jaguar Heritage Auction
This Sunday, the 14th April, Jaguar fans will be in for a lovely treat at the Baron's Jaguar Heritage Auction at Sandown Park.  Plenty of exclusive models will be on show, parading the most highly appropriate registration plates.
Fantastic registrations such as 'JGR 1' will be up for purchase and if the lucky winner decides to add a car to parade their newly iconic plate on, they wont have to look very far! Amongst the auction will be a variety of perfect Jaguars such as the 1950s XK's.
One particular vehicle that will be available for sale is the 1954 XK120 Drophead Coupé which has been sympathetically restored by Old School Engineering in Wales. Bidders will be expected to pay up to £70,000 for this marvellous motor.
There will also be a beautiful, concours-winning 1955 XK140 FHC and with its stunning red paint work, leather interior and motor racing history it will come as no surprise to see this Jaguar sell for over £55,000.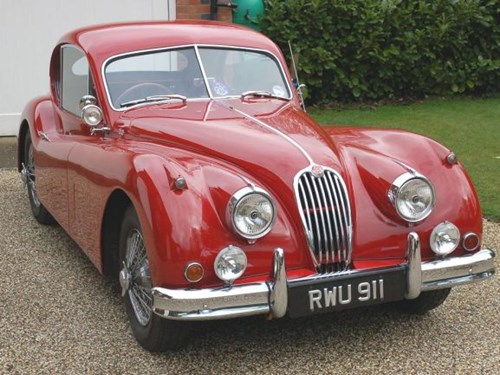 Another bright red beauty making an entrance will be the LHD 1957 XK150 Drophead Coupé.  With its exceptional condition the car has undergone a full restoration and comes with a price tag of an estimate between £57,000 and £65,000.
And, of course, completing the day will be stunning 1966 S1 Roadster E-type.  The previous owner has lovingly added to and upgraded the car over the 16 years they have had it and will be looking at achieving around £60,000 at auction.
Do not be put off by the high prices though, the appeal of Baron's Auction is that there is something for everyone. A wide range of models are available to suit every budget, and two lots in the April 14th sale prove that point well. A 1998 XK8 Coupé is offered at just £2,500-£3,500, whilst a 1995 XJ6 currently stands with an estimate of £1,500-£2,500.
Tags: Baron's Jaguar Heritage Auction, E-type S1 Roadster, Jaguar, LHD XK150 Drophead Coupe, Old School Engineering, Sandown Park, XJ6, XK120 Drophead Coupe, XK140 FHC, XK8